MEENA CHOPRA - Fine Artist / Digital Artist / Poet / Author & Curator:



With a restless streak within, I constantly delve into the creative self, searching the mysterious, intangible & elusive. My artistic practise quests for the universal duality, a relationship between the subject and the object, spirit and the matter, always trying to find the totality in this chaotic influx of paradoxes, in an effort to unlock the mysteries of life.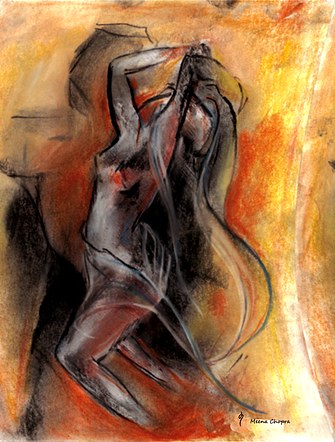 SHE! The Restless Streak
SHE! the life force, the restless streak, the moving fearless female energy, subconsciously and unknowingly, has always been a predominant part of my art depicting genesis, whether it is in abstract forms, figurative forms or in the forms of verse. I get totally spellbound, whenever I see the sun dipping down into the glory of the golden skyline on the Canadian landscape, specifically so during the mesmerizing Canadian fall with its undulating colours constantly reminding me the glory of sunsets as I saw it in my birth place Nainital, a beautiful hill resort on the foothills of Himalayan Range in North India. The wild enchantress, the ever entrancing mystery of nature, starts casting its enormous spell on my very being, seducing each and every passing moment of my life. And then, the eternal agony of human desire within, starts longing ceaselessly, striving to capture the very essence of the fleeting time.
The unknown reality, the mysterious, magical and enigmatic SHE! The Restless Streak - grabs the centre stage of all my imaginations with her splendour and vivacity; synergising every split second of my existence, revering the glory and the very nature of the everlasting stark female element of the entire universe, with all its lights and shadows, joys and pains. And then, SHE, starts her formidable journey descending on my blank canvases and sheets of paper, toning, tinting the stark lines and forms and at times colouring and filling my bare and impassive words with her unbound magical touch". - Meena Chopra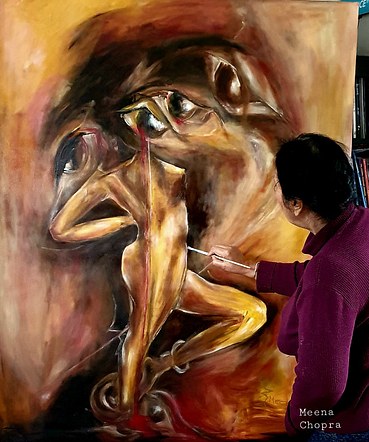 BIO:

Meena Chopra is a Canada based visual artist, digital artist & poet She has been practising her poetry and visual art for over three decades. She has exhibited her art in many countries and has had over 85 solo and group shows. Her paintings are with many Corporations, Government Bodies, Embassies, Hotels and Private Collections in India, Canada, Australia, England, Switzerland, Dubai and Kuwait (Princesses Aisha al Sabah of the royal family of Kuwait). A painter, sculptor, a designer, producer, curator and a poet, Meena has been a recipient of many awards. To name a few, she received first prize by Visual Arts in Canada in 2017. She has also been awarded by the National Ethnic Press Council of Canada (NEPCC) for her distinguished work in art and poetry. Her work has been recognized and critiqued by leading media in Canada as well as in India and England which includes The Toronto Star, Mississauga News, Voice Group, Hindustan times, Times of India, Statesman, Pioneer and the list goes on. She has been awarded grants from Canada Council for Arts. She has also been awarded for 'Outstanding Service and Commitment to Diversity and Inclusiveness' from Peel Community Connections, Canada. She has been the finalist for MARTYs Awards for her art in 2021, 2019 and 2010. While practising visual arts & writing poetry, she simultaneously entrepreneured in advertising, media and broadcasting with a life time career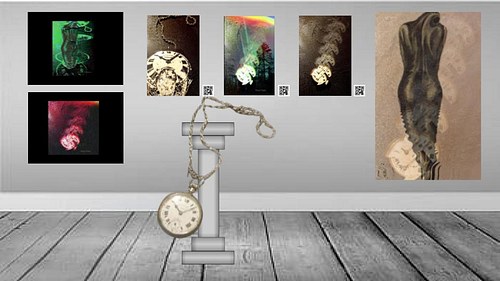 Cover pic is courtesy Jim Wilkes - Staff Reporter Toronto Star. First published in his article dated Mon, Aug. 9, 2010: HERE